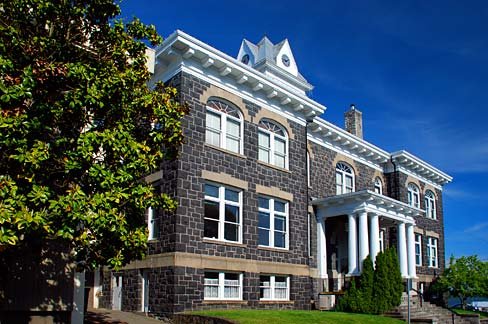 St. Helens Courthouse Photographer citation: Gary Halvorson, Oregon State Archives

This site
Cemetery Records Index - Aproximately 17,000 Names
Rainier, Oregon Obituary Index 1905 - 1998
Querie Surnames Index with links to the original query. These are old and no email addresses have been verified, however you may try them. You will need to cut and paste the email address. Be sure to check out the Boards & Email Lists to the left for newer queries.
Lookups for sources in Columbia County.
Federal Census transcripts includes some 1850 (prior to statehood) and 1860 transcript links.
Columbia County Government Offices
Historic Books available here via PDF
Columbia County Funeral Home, Inc., St. Helens Oregon burials for 1929-1999
Circuit Court Records for naturalizations Parts 6, 7, & 8
Naturalizations 1854 - 1899
Naturalization Records of Columbia Co. Volume 4, 1921-1924, Volume 5, 1925
Other web sites
Early Oregonian Search - Part of the sesquicentennial project to document individuals who lived in Oregon Prior to statehood through 1860. From the Oregon Secretary of State Website
Columbia Co. Biographies from the USGenWeb Archives

additional help
familysearch.org is a service provided by the Church of Jesus Christ of Latter-Day Saints. Includes genealogy trees, census, birth, death and marriage records, along with many others. Sign up for a free account.
Heritage Quest Online is a service many public libraries subscribe to. It includes many images of census records for Columbia County. Please check with your local library about access with your library card.
Ancestry.com is a fee service but is well worth the cost if you want it at home. Many libraries now have access with your library card.