Mom and Pop Shops
By Phyllis Badgley

"Patience is a virtue," as former proprietors of neighborhood grocery stores can affirm. They developed patience while penny-packing children stood before the candy counter making decisions.

Depression-era children were bargain hunters, since nickels and dimes were scarce.

In recent conversations with Verda Worsham Cahambers, we recalled childhood days when a 10-cent spending spree was an exciting event. She and her sister, Elda, lived in South Baker during the 1930s where they skipped several blocks to Guyer's grocery store. Firmly holding small coins in sweaty hands, big decisions had to be made at the candy counter. They pondered whether their nickel would best be spent for two jaw breakers, a tootsie roll, a sucker, or a peppermint stick with a ring encircling it. Maybe two-for-a-penny gum drops would last longer?

Even more difficult was the choice between Indian plug licorice or a licorice pipe, useful when pretending to be Hawkshaw, the detective.

Guyer's Grocery, operated by patient proprietors George and Delia Guyer, was a convenience hub for neighborhood families at a time when three lumber mills operated in the South Baker area. Guyers eventually sold to Charles and Grace Lewis, who developed patient while owning the store for 10 years. The Joe DeGroote Grocery was located nearby at the Y where Second Street branched.

Lumber mills played a major role in Baker's economy. I vividly recall a nighttime fire at White Pine Mill, across the street from these grocery stores. The Baker fire horn issued three blasts to indicate a South Baker location. Townspeople rushed to see the spectacle much like they did in recent years when Baker High School burned.

Next morning at the millsite, a lone smokestack stood amid the smoldering ruins. Fortunately, the mill was rebuilt and breadwinners again employed.

Stepping back in time to Baker in the mid - 1920s, my parents, C. H. "Red" and Louine May, established a small grocery store on 15th Street, north of Broadway. Prior to that time my dad was employed at Bill Warfel's Hub Grocery, Third and Broadway. Warfel's wife is remembered as one of the donors of the rock collection the Oregon Trail Regional Museum. Citing a need Warfel suggested that my parents establish a grocery store in West Baker. They did so.

The front of our home was partitioned off, shelves built and stocked. I was a small child, but recall peeking around the end of the counter to view the customers. I was then that I first saw a colored child. I was instantly fascinated and had to be hushed from comment by my kind, understanding mother.

"Mom and Pop" grocery stores sprang up in various districts of Baker to accommodate the immediate neighborhood. Some of those that came into being at intervals were Rea's Grocery, corner of Fourth and Carter streets; Elm Street Grocery, corner of Elm and Estes; Third and Dewey Market near the underpass; and Shafner.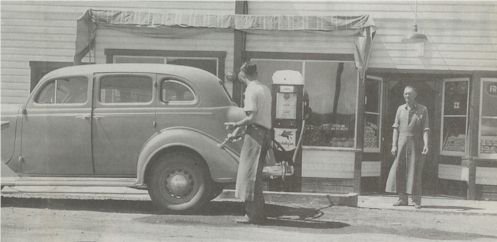 George Guyer, right was proprietor of Guyer's Grocery at 600 Second street in
South Baker City. His son Randell Guyer Sr. pumped gas.


Printed here with the permission of Baker City Herald
---
Sommer Building Has Quite A History In Baker City

By Phyllis Badgley

Do you remember Baker's Sommer Building? I do. It was a four story building on the corner of Main and Washington, north across the street from the Geiser Grand Hotel.

This brick structure housed business and professional offices in the upper stories. An elevator (entrance on Washington Avenue) provided access to doctor and lawyers quarters, Leland Heart was a longtime elevator operator.

Some of the attorneys who practiced there were Hallock, Donald, and Banta. The late David Silven joined the firm in mid-forties. Later, the firm built offices across from the Courthouse, in the 1900 block of Third Street, John Horton was associated with the firm at one time. Presently it is known as Silven, Schmeits and Vaughan.

Several doctors had offices in the Sommer Building. Dr. Harry Horton, dentist, was in practice there in the forties. Gary Dielman said he remembers going to Dr. Horton in 1947 when he made his first childhood visit to a dentist.

Drs. Roger and Flora Biswell had their medical practice in the Sommer Building, before establishing offices on North Main Street.

Presently the offices of Guyer, Lindley, Bailey, and Martin are located there.

The ground floor of the Sommer Building housed Grows Jewelry Store (later Cate's). Ed Mineff's Geiser Grand Barber Ship was in the adjoining portion of the building.

Mineff's shop was a successful five-chair establishment. He and wife, Rose, chose to rear their family of three girls in Baker. One daughter, Grace Lewis, remains here. She is a retired school teacher and historian. Dorothe resides in Washington state. Helen is deceased. The barber shop was later operated as Kofford and Dickison. When U.S. Bank took over the location in 1960, the barber shop moved north in the same block. Later, Robbins Arrow store was housed there, and presently it's the home of Baker floral.

In mid-30s, in the rear portion of the Sommer Building, O.H.P. McCord established an office where he dealt in contracts, loans, and lock box rentals. I recall when my dad, with Red's Delivery and Transfer, hauled a number of lock boxes from a source in Bend to be put in McCord's office. He remarked at the time that the steel safety boxes were among the heaviest loads he had encountered in his years of service.

Lois Comstock was secretary at the McCord office for an extended time. Robert McCord joined the firm and it was called McCord and Son. It eventually moved to the 1800 block on Main Street. A gold display and other Baker County artifacts were featured attractions in the McCord office. Robert's wife, Neva, graciously presented our local library with a fine collection of early-day photos from the McCord collection.

The era of the Sommer building came to an end in 1960 when the structure was razed to make room for the U.S. Bank (formerly known as the First National.) The bank moved across Main Street to the present location, 2000 Main St.,

Phyllis Badgley is a lifelong Baker City resident, historian and writer.
Printed here with permission of Record Courier