Front Roll: Jack Walters, Wanda Cantrell, Fairis Rhodes, Viola Glascock, Leonard Smith, Emma Glascock, Kenneth Williams
Second Roll: Bruce Pinkston, Howard Points, Wade Nicholas, Byal Walters, Gordon Loombs, Clara Rhodes
Third Roll: Bulial Careyhill, Gladys Elliott, Bob Walters, Emmy Lou Hanks
Forth Roll: Keith Pinkston, Elli Points, Violet Pinkston, James McGunney, Virginia McCanios, Orville McEwen, L. Marshal, teacher

Kingman Kolney School 1928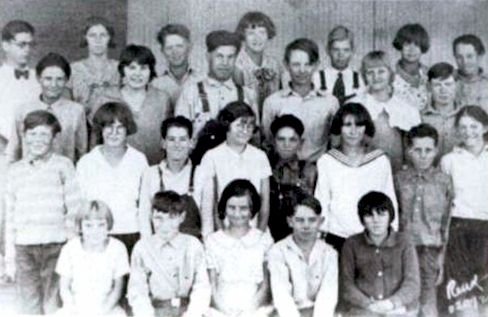 1st row: Arleta Brice, James Nichols, Georgia Toomb, Arnold Slippy and ?
2nd row: Leonard Nichols, Viola Glascock (my mother) Harold Points, Vera McConnell and ?, Harriet Truelson, Victor Scott and Ella Points.
3 rd row: Everett Huffman, Gladys Elliott, Dale Freel, Gordon Toomb, Lois Enos, Wade Nichols.
4th Row: Teacher is Carl Schnider, ?, John Recla, Elizabeth Recla, Raymond Holly, Ruth Fenn and Bruce Pinkston.