Wingville Grange
Wingville Grange papers found in the Grange by the Payton's.
Organized Oct. 27, 1924 with 31 charter members. Meetings were held in I.O.O.F. Hall until March 1931 when the Grange purchased the building. This building was erected in 1885.
B.E. Jacobs was Master

1928-1929
1930
1931-1932
1933-1936
1937
1938-1940
1941
1942
1943
1944
1945 -1946
1947
1948
1949
1950
1951-1952
Fred Gerberding
Garrett Romaine
John Rohner
Dorothy Perkins
Alta Olsen elected. Resigned because of poor health and Cecil Sturgill was Master
John Payton
Roy Anderson
Glenn Wolfe
Roy Anderson
Fred Schultz
Roy Anderson
Norbert Seig
Fred Schultz
Jessie Sturgill
Glenn Morin
Nell Irby
Wingville Home Economic Club Organized 1933
President Pearl Seig

1930
1931
1932
1933
1934
1935
1936
1937
1938
1939
1940
Ora Gerberding
Mrs. John Rohner
Mrs. Loy M. Seig



Alta Olsen
Pansy Buchanan
Jessie Sturgill
Dorothy Kipling
Bertha Rohner
1941
1942
1943
1944
1945
1946
1947
1948
1949
1950
1951
Nell Irby
Nell Irby
Faith A. Waltz
Pearl Seig
Alta Olsen
Blanche Payton
Gladys Seig

Dorothy Kipling
Clarene Rohner
Nell Irby

Wingville Grange won National Booster Night Program in 1936

Notes of Interest
Probably the first Grange in Baker County was at Wingville. On 1874 Dec. 7, Hiram Osborn (Mrs. Cecil Sturgill's grandfather) paid $1.50 Dues to Wingville Grange No. 150.
This grange was held in the second story of the schoolhouse. It flourished a number of years then disbanded in 1888. The school house burned in 1904 and all records lost.
The Grange used the I.O.O.F. until March 6, 1924. When they bought it. It was deeded to 5 trustees.

1931 - Sept. voted to hold Grange twice a month, 1st and 3rd Wed.

Highway was designated as boundary line between Mo. Flat and Wingville. People in town to choose.
April 1, 1936 bought M.E. Church Property 125ft N & S X 150 ft E & W. Cost $125.00 Deeded June 15. 1936.

I.O.O.F. built by John Perkins 1885

Church building erected 1869 or 1870. The lumber was hauled from Pocahontas in the rough and planes by hand a board at a time.
1936 the Grange was in need of a larger meeting place with a view of tearing down both buildings and rebuilding.
Upon investigating the buildings they were found to be in such good condition they decided to remodel.
The I.O.O.F. Hall was moved from the S.E. corner to the church property across the highway and placed in front of the church, the upper story being removed and a stage added to the back as it now stands.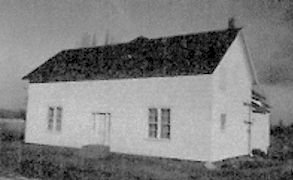 1938 - 1952
John Payton was Master.
Notes were sold at $5.00 each to finance the remodeling. (See list)
The mortgage was burned Sept. 30, 1941
Grange Celebrates 25th Anniversary October 27th 1949
Preceding the presentation of the Silver Star certificates a banquet was served to one hundred patrons.

The tables were arranged in a cross, with the guest's table placed at the head, beautifully decorated in silver.

John King organized this unit Oct. 27, 1924 and was to have given the welcoming address, but was called out of town and unable to attend.

Master Jessie Sturgill introduced the 25-year members. They were:
Mrs. Fanny Rohner,
Lynn Seig, Pearl Seig,
Bertha Rohner and
W. H. Rohner.

The program consisted of the following members.
J. Roscoe Lee rendered several piano selections.
Reading by Edith Morin
Violin solo by Bobby Crimmin
Reminisce of grange the last 25 years by W.H. Rohner
Reading by Vera Benson
Value of Grange Memberships by Fanny Rohner
Reading by Carol Miller
Presentation of certificates - past Master Fred Schultz
Song by Joan & Jean Cox.

Blanche Payton baked and presented a beautiful birthday cake.

Other Charter members in the community were:

Florence Rohner
Harold Doherty
Charles Rohner
H.M. Doherty
Mrs. Chas. Rohner
Barbara Johnston
Bert Melvin
Garrett Romaine
Olga Melvin
John Ashworth
Webmasters Note: Our thanks to the Payton Family for providing this information